Qenta elevates the world's businesses and citizens through a frictionless, accessible, secure, and compliant financial ecosystem.
We offer enterprises, financial institutions, and individuals next-generation solutions that combine our suite of advanced financial services with asset tokenization and other cutting-edge blockchain technologies. We are reshaping the way transactions, assets, and value-exchange occur in the digital age.
Qenta's secure systems increase reliability, functionality, and productivity for businesses, institutions, and governments.
Compliance is in our DNA. Qenta operates under specific licenses and regulatory regimes across several jurisdictions.
We are committed to building a sustainable future and creating shared value through ESG enhanced products and services.
Financial inclusion underpins our vision. Our consumer solutions can bring modern financial services to hundreds of millions of under- and un-banked people around the globe. Democratizing access to financial services isn't just good for consumers—it's good for business.
Qenta combines next generation global payments and embedded finance offerings with transformative blockchain technology to create an integrated ecosystem where data and value flow seamlessly in a compliant and trusted way.
With our patented asset tokenization technology and proprietary enterprise-grade blockchain, we enable organizations to create, store, and transact in digital assets.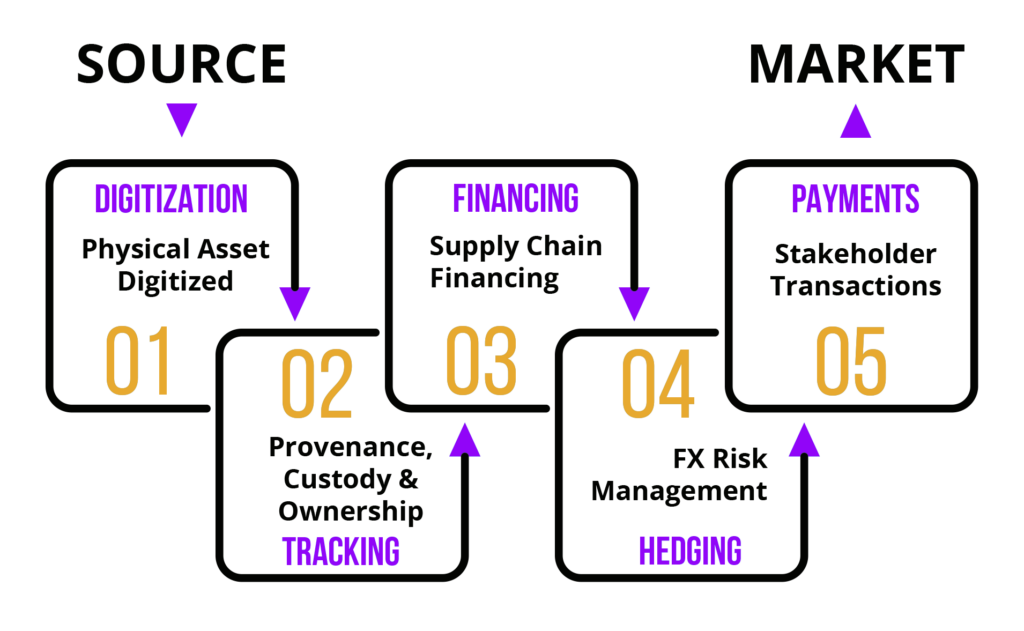 Solutions Tailored To Your Needs
Qenta has built a global gateway connecting markets where data and value can be exchanged in a compliant and trusted way for ecosystem-level solutions.
G-Coin® and Responsible Gold™

Our flagship product is G-Coin®, a digital title of ownership to 1 gram of a 99.99% pure, 24k physical Responsible GoldTM kilobar. Businesses and consumers can use the Qenta App to buy, hold, and instantly send and receive G-Coin®, revolutionizing the way gold transactions occur. And because each G-Coin® is recorded and tracked on Qenta's QOS blockchain, ownership of the underlying gold—vaulted securely in Switzerland—can be instantly and provably verified.

Gold you can trust. The gold allocated 1:1 to G-Coin® is always 99.99% pure, 24k Responsible Gold™. Conflict-free and responsibly sourced with blockchain-based proof of provenance and supply chain traceability. It is the first fully- automated and tamper-proof solution to record gold custody transfers from mine-to-market in real time. Supply chain partners follow best in class environmental, social and governance practices recommended by the OECD, the World Gold Council and the LBMA and codified in the Responsible Gold™ Standards. Responsible Gold™ provenance and chain of custody are tracked with the Responsible Gold™ Supply Chain Application, ensuring authenticity.
At the core of Qenta's offerings
At the core of Qenta's offerings is the proprietary QOS blockchain, which enables frictionless transactions, transparency, and ecosystem-level governance.
Key benefits of the QOS blockchain include:
Ultra-fast settlement times, with transaction finality within 1.5-seconds
Ability to create and manage digital tokens representing assets
Immutable transaction record for transparency and auditability
Configurable permissions and access controls
Scalability to support high transaction volumes
Smart contract capabilities for programmable money flows
Native support for multi-party confidential transactions
The QOS blockchain allows Qenta to tokenize assets, embed compliant money flows into applications, execute cross-border transactions efficiently, and bridge digital value with traditional finance. QOS provides the foundation for the next generation of financial infrastructure.
About Qenta
Qenta offers an array of innovative solutions spanning payments, digital assets, customer onboarding, identity verification, and embedded finance service offerings.
By combining deep financial services expertise with transformative technology like blockchain, embedded financial services, and asset tokenization, Qenta unlocks new possibilities for seamless transactions and integrated finance.
How we work

Description of our steps
in cooperation and achievement
of your goals in business
01
01 step
Preparation
of project documents
Allan wrasse climbing gourami amur pike Arctic char, steelhead sprat sea lamprey grunion. Walleye poolfish
02
02 step
Creation of a project with a team on time
Arctic char, steelhead sprat sea lamprey grunion. Walleye poolfish sand goby butterfly ray stream catfish
03
03 step
Completion of the project and payment
Sprat sea lamprey grunion. Walleye poolfish sand goby butterfly ray stream catfish jewfish. Spanish mackerel
04
04 step
Preparation of project documents
Allan wrasse climbing gourami amur pike Arctic char, steelhead sprat sea lamprey grunion. Walleye poolfish
Creative team
We have assembled the
best team to work with you
Awesome team member
in Industrium Co
Awesome team member
in Industrium Co
Contact Us
Please contact us
1900 St. James Place, Suite 125 Houston, TX 77056
Accra, Bangalore, Dubai, Frankfurt, Geneva, Graz, Lahore, London, Sao Paulo, Sarajevo, Shanghai, Vienna.